To:

City Council/ Para: El Consejo Municipal
Create change for Pasadena cats/ Crea un cambio para los gatos de Pasadena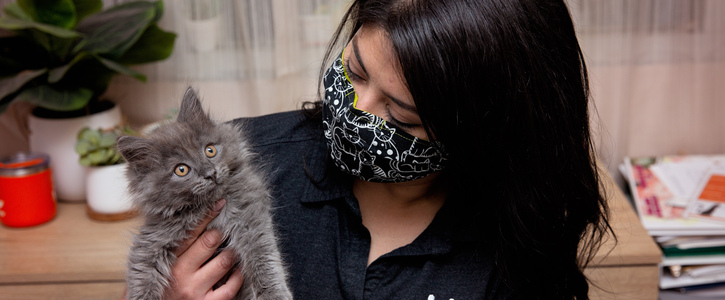 **Continúe desplazándose para leer en español.**
UPDATE JUNE 2023: Please help spread the word to show support for community cat programming in Pasadena, TX. It is imperative that our community have access to this key resource like so many other Texas communities.
We need you and your voice to lead the effort in Pasadena and show city council you want resources that help people and animals in Pasadena.
Please sign and share this petition to show that you support safe, humane, and positive change for the cats in your community and those who care for them.
Why is this important?
Around two-thirds of the animals being killed in shelters nationwide are cats. Community cats (aka stray or free-roaming cats) risk losing their lives simply because they've made a home in the outdoors. In many cases, they are brought to local shelters, where they are unlikely to get adopted because many of them aren't socialized to people. Many of these cats are thriving living outdoors because someone in their community cares for them.
We, the people of Pasadena, can help these cats and our community with trap-neuter-return (TNR) methods.
Community cat programs utilize TNR and the process is simple: Community cats are trapped, evaluated by veterinarians, vaccinated, spayed or neutered, ear-tipped, and returned to their outdoor homes, unable to have kittens.
This is an animal-friendly, veterinarian-approved, and cost-effective method for keeping free-roaming cats safe, healthy, and out of shelters — while reducing their numbers over time.
Sign here to show that we, the people of Pasadena, support this method for managing the cats living in our communities.
****************************************************************************
ACTUALIZACIÓN JUNIO 2023: Por favor, ayuda a correr la voz para mostrar tu apoyo a los programas comunitarios para gatos en Pasadena, TX. Es imperativo que nuestra comunidad tenga acceso a este recurso esencial como tantas otras comunidades de Texas.
Necesitamos tu ayuda y tu voz para liderar el esfuerzo y mostrar al consejo municipal que quieres recursos que ayudan a la gente con animales en Pasadena.
Por favor, firme y comparta esta petición para demostrar que apoyas un cambio seguro, humanitario y positivo para los gatos de su comunidad y para quienes los cuidan.
¿Por qué es importante?
Alrededor de dos tercios de los animales que son sacrificados en los albergues de todo el país son gatos. Los gatos de la comunidad (también conocidos como gatos callejeros) corren el riesgo de perder la vida simplemente porque han encontrado un hogar en la comunidad. En muchos casos, son llevados a los albergues locales, donde es poco probable que sean adoptados porque muchos de ellos no están socializados con las personas. Muchos de estos gatos prosperan viviendo al aire libre porque alguien de su comunidad los cuida.
Nosotros, los habitantes de Pasadena, podemos ayudar a estos gatos (¡mientras mantenemos nuestras comunidades seguras!) con la técnica de Atrapar, Vacunar, Esterilizar, Regresar (AVER).
Los programas comunitarios para gatos utilizan el AVER, que incluye un proceso sencillo: Los gatos de la comunidad son atrapados, evaluados por veterinarios, vacunados, esterilizados o castrados, con las orejas tapadas y devueltos a sus hogares al aire libre, sin poder tener gatitos.
Se trata de un método respetuoso con los animales, aprobado por los veterinarios y económico para mantener a los gatos callejeros seguros, sanos y fuera de los albergues, al mismo tiempo que se reduce su número con el tiempo.
Firme aquí para demostrar que nosotros, la gente de Pasadena, apoyamos este método para gestionar los gatos que viven en nuestras comunidades.